About Us
At Central Florida Tech Grove, innovation grows with us
The Tech Grove is a unique modeling and simulation collaboration space consisting of 6,400 physical square feet and unlimited virtual space. We create opportunities for collaboration and innovation through a variety of events, programs, and competitions for innovators, industry, academia, and government to engage in addressing the needs of our military.
Tech Grove's Purpose
The Department of Defense (DOD) relies on technology innovations for novel, non-traditional military training solutions to prepare the United States soldiers, sailors, airmen, Marines, and guardians who protect our country.
At Tech Grove, we support innovators like you, creating connectivity and collaboration between military and U.S. government customers to support the development of innovative solutions addressing DOD training needs.
Our unique customer base enables us to address gaps and problems shared by multiple services as well as individual service needs. It also enables us to provide YOU the opportunity to engage across the DOD organizations focused on human performance and to provide connections to other areas of each service.
Education, Support, and Access
Tech Grove reaches across the country — and into all sectors — to attract innovators to achieve our three key missions:

Support the transfer and transition of DOD-funded innovations

Solve problems faced by our customers
We need YOU to engage with us so our customers can utilize your innovative ideas, talent, capabilities, products, or services to address their needs.
We provide education, support, and access to expedite the development of innovative DOD training need solutions, with services such as:
Prize Challenges and Colliders
Opportunities for non-traditional technologists to address complex MS&T problems.
Innovation Cells
Simulation and training platforms used for gap analysis, prototype testing, and exploration of collaboration opportunities.
Innovation Events
Outreach events, capability demonstrations, and monthly and weekly social engagements to cultivate connection.
Solution Ecosystems
Workbenches, sandboxes, cyber warfare labs, and hack-a-thon competitions.
Technology Demonstrations
Curated physical and virtual technology demonstrations.
Innovator Connections
Connection of innovators with small businesses, OEM, academia, capital institutions, and media resources to move innovative solutions to commercialization.
Additional Stakeholders
Member organizations and stakeholders for Tech Grove include:
Tech Grove Connections
Facilitating the connections, discussions, and collaborations that lead to the accelerated adoption of new ideas and innovative training solutions isn't possible by one organization. It requires knowledge of and association with national defense training agencies, other government agencies, leading research universities, and other defense innovation hubs. That's why Tech Grove partners with multiple agencies and divisions to get the job done.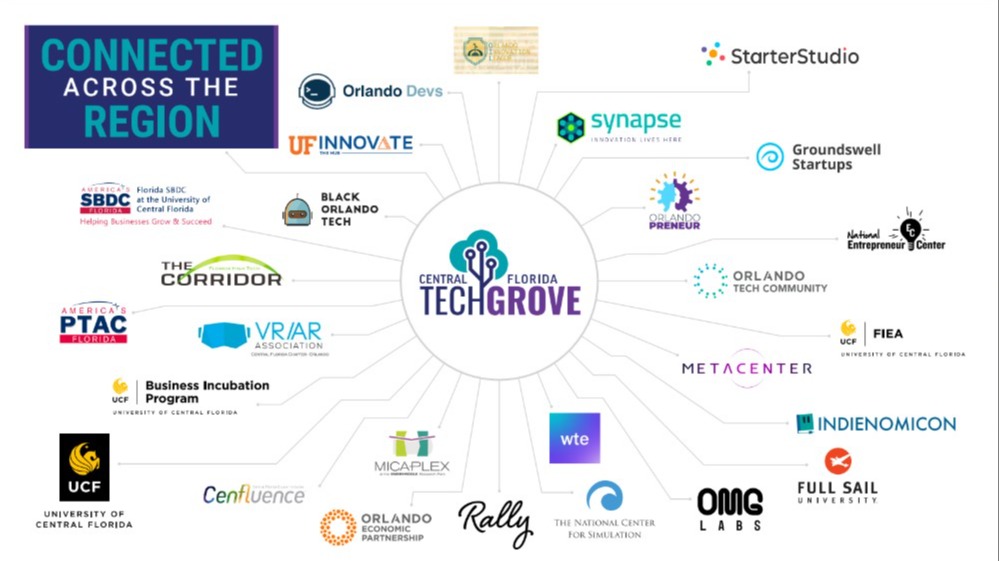 Tech Grove also connects beyond the defense community to other networks of innovators and academia in a variety of other industries. The existing and new relationships we build across the country enable us to reach innovators in key technology areas relevant to our customers.
Let's Connect
Have a great idea?
Interested in engaging with our industry, academic, or small business ecosystem?